The below information contains the route map, exactly where in the Martin's parking lot we are starting from and where to park, where the walk is ending and where to park in St. Patrick's County Park.
It is ideal if you are walking with at least 1 other person to have one park at your starting point and one park at your finish point. As the size of the group grows enough to merit the expense, group transportation will be provided. Therefore, each participant will need to have their own transportation from the park or their exit point, if that is not the park.
** 2020 modifications- we are NOT making full rest stops this year at any fire stations. We are making 5 minute pauses from a distance to recognize and applaud our 1st responders. Our dinner rest stop at a sponsor's office will not include access to public restrooms. All the restroom rest stops this year are intended to be restroom/break stops. For hop on points, please hop on at the fire stations, but we ask that you not interact physically with personnel.
---
The full route (click for full size)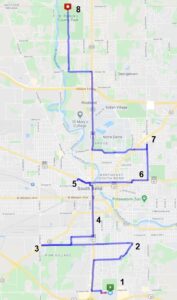 For those who'd like to know mileage (click for full size)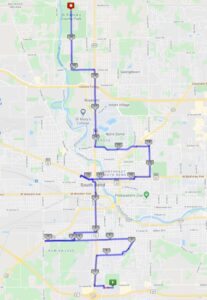 *All times are estimated. Call 574-213-8563 for live information **additional 2020 stops are not shown on map as they are not meant to be hop-on points**
1-Start from Martin's Parking lot (902 Erskine Plaza) 9:11
2-South Bend Fire House on 2402 S Twyckenham Dr. 10:15-10:20
2a- Virginia Tutt Public Branch Library 2223 Miami St (corner of Miami and E Ewing) 10:40-10:55
3-South Bend Fire House on 2221 Prairie Ave. 11:40-11:45
3a- Phillips 66 gas station 2334 Prairie Ave (down the street from fire house) 11:50-12:05
4-South Bend Fire House on 1222 S Michigan 12:55-1:00
4a- South Bend Chocolate Cafe building internal restrooms 122 S Michigan St 1:20-1:35
5-South Bend Fire House on 402 Charles Martin Sr. Dr. 1:55-2:00 ****Half-Way Mark****
6-South Bend Fire House on 1805 McKinley Ave St. 2:45-2:50
7-Coldwell Banker The Real Estate Group on 1539 N. Ironwood Dr. 3:15-3:35 ** Lunch/ Dinner Stop**
7a- Speedway gas station 1706 S Bend Ave (corner of Edison and SR 23/South Bend Ave) 3:50-4:05
8-Phillips 66 gas station 110 N Dixie Way/SR 933 5:05-5:20
9- End 9/11 Memorial St. Patrick's County Park 6:40
****Please provide your own transportation from the point you exit the walk. If you think you may not make it as far as you expect, please plan ahead for someone to pick you up.****
Total Estimated Walking Time 7 hours, 25 minutes
Total Estimated Rest Time 1 hour, 40 minutes
Total Estimated Event time 9 hours, 5 minutes
Parking:
*If you choose to join us at a rest stop, please be courteous and park away from the fire station or realtor office. We do not want to impede regular operations.* 
In the Menards parking lot, please park in the back of the lot so regular customers can park closer to the store.

More detail: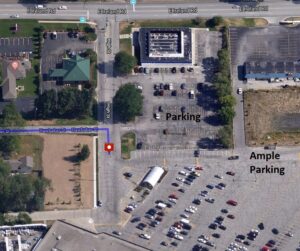 We finish our walk at the 9/11 Memorial as shown below in black all caps text.
High level view: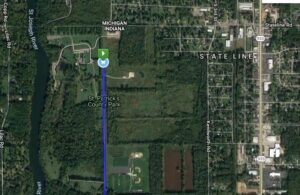 Detail: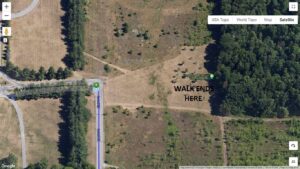 If you plan to park in St. Patrick's County Park, please do so in the designated parking area. Parking is free.